GridSmart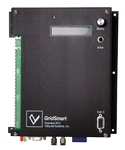 The GridSmart is a special Pole Mounted RTU which provides SCADA support for remote (nonsubstation) devices. It is often used with remote breakers which are fed from a distribution metering point or tap. The GridSmart is particularly cost effective for automating older devices such as Cooper Type W, 3A, and 4C recloser controls. Battery backup allows continued SCADA support during power outages. Communications is implemented with short-haul radio modems or fiber optics. Valquest provides a data concentrator RTU (VQ-9) for efficient channeling of data to the SCADA Master Station.
Input / Output Connections
| Qty | I/O | Specification |
| --- | --- | --- |
| 3 | Voltage Inputs | 120 VAC |
| 3 | Current Inputs | 0-10 Volt, 0-1 Amp LPCS, or 0-5 Amp CT |
| 4-8 | Digital Inputs | Opto-isolated, external, or self-wetted |
| 0-4 | Digital Outputs | Control Pairs |
SCADA Functions
Analog Readings
Digital
Control

Three phase current & neutral measurement
Phase angle measurement on all phases
Fault current and duration measurement
Voltage measurement

Breaker Status
Non-Reclose Status
Ground-Fault Block Status
Local / Remote Status

Trip / Close
Non-Reclose
Ground Fault Block
Communications Protocols and Interfaces
Port 1
Port 2
Port 3
Supports DNP 3.0 Protocol through the following connections:

RS-232
Fiber Optic
Ethernet - TCP/IP

Maintenance and Programming:
Programming and Data Storage:
Man - Machine Interface:
Front panel display and controls (Operates with simple rotational and push-button control).
The LCD Display provides an easy to read visual interface for setup and status checking.
Technical Specifications
| | |
| --- | --- |
| Voltage Measurement | +/- 0.5% |
| Current Measurement | +/- 1.0% |
| Peak Fault Current Measurement | +/- 2.0% |
| Fault Duration Measurement | +/- ½ Cycle |
| Fault Event Storage | 50 |
| Phase Angle Measurement | +/- 0.5° |
| kVAr Measurement | +/- 0.5% |
| kW Measurement | +/- 0.5% |
| kVA Measurement | +/- 0.5% |
| Power Factor Measurement | +/- 0.5% |
Line Frequency Measurement
+/- 0.02 Hz
Temperature Range
-40°F to 165°F
Humidity (Non-Condensing)
0 to 100%
Operating Voltage
108 to 145 VAC
Battery Voltage
12 VDC
Relay Contact Rating
10 Amps
Power Usage (without radio)
1 Watt
Enclosure
Metal - Nema 4
Fiber Optic Termination
ST - Connector
Protocols - Available
PGE – 2179,
Modbus- RTU,
DNP 3.0